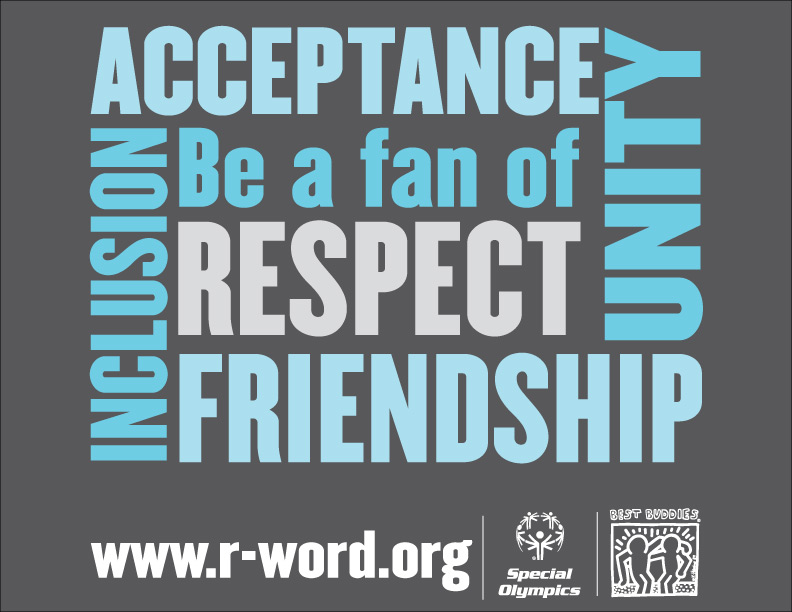 Spread the Word to End the Word Day is March 7th, 2012



Come join us for the BBCT Talent Showcase Extravaganza on Sunday, February 26th at Sacred Heart University.

Spread the Word to End the Word (STW/ETW) is an ongoing effort by Best Buddies, Special Olympics, and our supporters to raise the consciousness of society about the dehumanizing effects of the word "retard(ed)" and to encourage people to pledge to stop using the R-word.

Spread the Word to End the Word began under the leadership of two college students in 2009 and has become a powerful global movement in just three years.

While the Spread the Word to End the Word movement is a year-long campaign to raise awareness, the first Wednesday of every March is our official annual day of activism.

This year STW/ETW Day will be on Wednesday, March 7th 2012. People from around the globe will collect pledges from family, friends, and community members and encourage everyone to use respectful and inclusive language. The STW/ETW movement has already collected over 230,000 pledges online and continues to expand each day.

Best Buddies Connecticut participants and friends continue to support the STW/ETW campaign. Chapters host creative awareness-building activities in their schools and communities. Suffield High School is planning to host information tables about the initiative during lunch waves and pass out ribbons to those who pledge to stop using the R-word.

Sacred Heart University has plans to collect signatures on a large pledge banner that can be showcased on campus. Darien High School is planning to make a video for STW/ETW, which will be shown to the entire high school during the school's morning news. Several chapters have ordered STW/ETW merchandise to sell at their schools to spread awareness.

In addition to Spread the Word to End the Word Day, March is also Best Buddies month. In March, buddy pairs are encouraged to celebrate the outstanding friendships they have made this year.

It is also an opportunity to spread awareness about the organization and the mission of Best Buddies within our schools and communities. The Best Buddies Connecticut office will be hosting a Talent Showcase Extravaganza on Sunday, February 26th to kick off Best Buddies month.

This event is a great way for participants to get excited about Best Buddies month and celebrate the wonderful talents of all our participants. Quinnipiac University will be hosting a STW/ETW table at the Talent Showcase to provide more information about the initiative. For additional details, please visit our facebook page. We hope to see you there!

To learn more about Spread the Word to End the Word, please visit www.r-word.org. The "Resources" section of the website has excellent links to all sorts of materials you may need to host your own STW/ETW campaign and collect pledges in your community!